'The Philippines? Why?'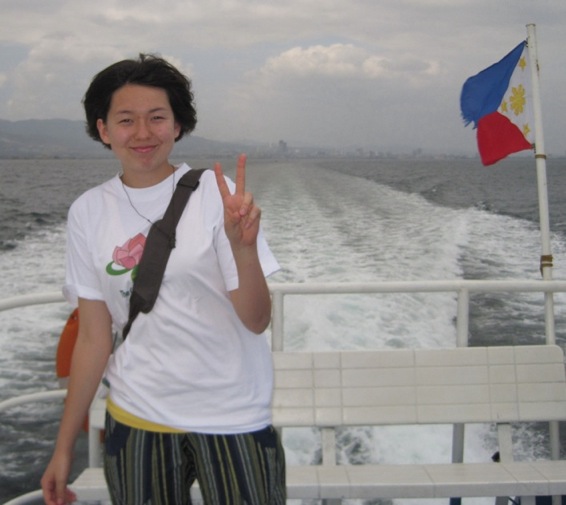 I visited the Philippines in March and stayed there for 14 days. When asked why I wanted to visit the Philippines, I didn't know exactly what to say, except that I wanted to explore. Although even now, I'm still not sure what brought me to the Philippines, but what I do know is that all the experiences I had there made me ever more curious to unfold other various jack-in-the-boxes that are yet to be found. Joy, grief, irritation, astonishment, thrill and so many different emotions were condensed in my short-bullet-stay.
I came with Richard, the PSHF founder, to the Philippines on the 25th of March but after three days of being together in Cebu, we were on different itineraries. However even if I was just alone in visiting the PSHF offices, the PSHF family were always there to help me. I always felt as if I were at home.
26 March-CEBU 
Richard said 'Cebu is a prospering city'. There is a posh mall right in front of the slums, exhaust fumes make my face literally grey, and there are many factories. After meeting up with the PSHF staff at the Lighthouse Learning Center (LLC), Apple and Genevive, Cebu field workers, take me to a so-called slum. There are no drainage pipes and children were looking for coins in the sludge. Adults were gambling. I am too astonished to take any photos. Knowing, is very different from experiencing. After that, I go to see Apple and Genevive's 'sari-sari' store. They offer to host me for an overnight stay in their place. It is really generous of them and I promised to see them again before returning to Japan.
27 March
Today, I go to see a Philippine style pre-school graduation. "Nothing lasts forever". There's even a song entitled this. However, the LLC graduation seems to be an exception. Medal after medal are given to the children and parents for all kinds of accomplishments, most punctual, most well behaved, best in math... They sung and danced a lot too. It was a sweet and peculiar scene that I had never come across in Japan.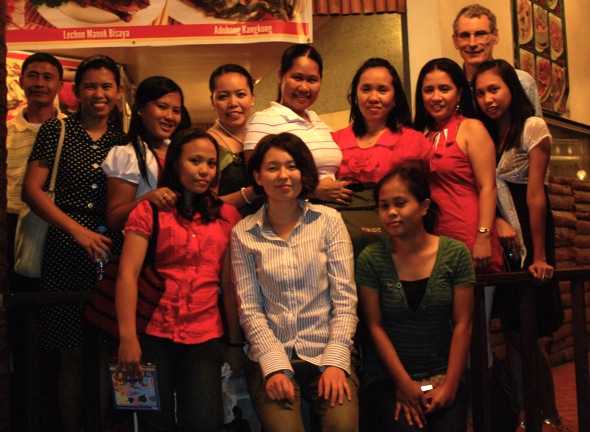 (with Richard, Ireen, Glitter and LLC staff in Cebu)
29 March-BOHOL

Now I'm in Bohol.:D
Anabelle and Leah, Bohol staff members, take me to see some PSHF projects (vending) and medical grant recipients. Nicanor, a middle-aged man, has a severe case of dermatitis and was scratching all over his body. Hazel, who is two years younger than me, has been tragically bedridden for many years after being afflicted with a kidney disease in late 2005. I couldn't help myself from crying after coming back to the office from seeing her. Just having those illnesses is already bad enough, but their living conditions are also extremely depressing. I am sad to add that Hazel passed away on the 1st of August. May she be in peace now.
30 March
Today, the Bohol PSHF members and I went to Sagasa island. There is something really special about this island. Sagasa is part of Bohol but its environment is very different from the mainland. There are pine trees all around and all the houses are made up of nipa and bamboo. The well water is salty, therefore the shower is salty too. I wonder if I could sell the salt shower method to Japan for skin improvement. lol! There are about 300 families on the island, and the people here mainly earn a living from fishing and vending. I follow Phady and Leah around to see six projects. e.g. fishing, growing seaweed, sari-sari. One of the PSHF recipients kindly lets us stay in her house for the night. The people in Sagasa, and perhaps throughout the Philippines seem be nonchalant or ignorant (in a positive way) about 'not having'. They smile beautifully with teeth missing. They run around wearing T-shirts with holes. It's just nearly impossible to see those scenes in Japan. Seeing the local people's lives and sharing the atmosphere by staying with them, is one of the most precious moments of my stay. Honestly, I am only able to do this because of the magnanimity and helpfulness of the PSHF family.
31 March 
We leave Sagasa and head off for a major sightseeing trip around Bohol. The part I personally liked best were the chocolate hills. The fog and the rain were melting with the hills as one picturesque scene! I was intrigued to hear that the number of hills were getting fewer. This is because the hills were originally coral reefs and therefore not designed to support trees. The chocolate hills are bulged coral reefs! After coming back to the PSHF Bohol office, Analyn and I go for a stroll. She's very honest and doesn't tell a lie apart from making excuses for skipping classes. lol!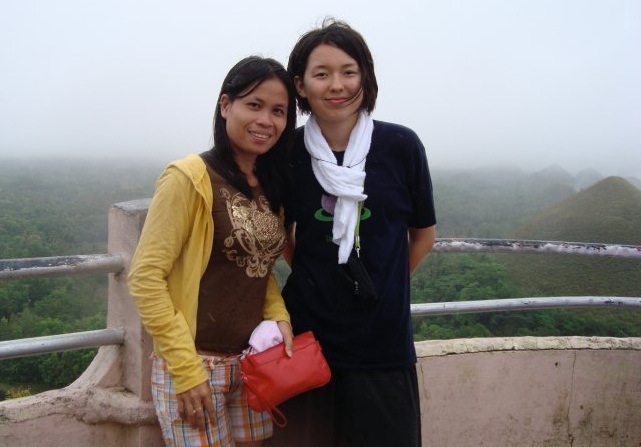 (with Phady in Bohol)
4 April - GUBA 
It is not easy to say goodbye after being with warmhearted people in Bohol for four days. I take the ocean jet to Negros Oriental. Leklek, the PSHF field coordinator in Oriental, and her family are hosting me. She picked me up at the port and we took a van to Guba, her home village. She's a really kindhearted person. Indeed, all of her family members have so much human warmth.
Leklek's older brother kindly takes us on his motorcycle every time we go to the mountains to visit projects. Since I had seen many sari-sari stores and other vending projects by then, it was interesting to see projects that were unique to the mountains, namely, organic bananas and raising native chickens. The people living here are really generous. Although some visits were not planned, they offered us breakfast, bananas and vegetables to bring back to Leklek's home. By the time we were leaving, the motorcycle was overloaded with delicacies:D
In the evening, Leklek and I chatted over a superb Philippine dinner prepared by her mother. One of the memorable things she said to me was that, "To change is to adjust". I've never thought about "change" that way, but I felt there was some truth in it.
2 April 
The children here are great. We climb trees, swim in the sea, run, throw whatever we find, and run again. It is interesting to note that people here don't panic when their fridge break down. It is because they eat what they catch that day, and if there's some food left, they sell it, dry or give it to the animals. How economical and ecological!
3 April
Many people say that the drought this year is the worst in living memory. I saw dozens of dried out rivers. I had mixed feelings when a man said that one of the main causes of this drought was deforestation. I hope that people will figure out a balanced way of using natural resources.
4 April
 "Today is Easter Sunday" said Leklek's mother. We go to the church, and it totally overthrows my image of church rituals. People in the church are not sitting and reading the bible but singing and dancing to live music. Thanks to Leklek and her family, I really enjoyed the stay in Guba. I shall never forget Leklek's habit of saying, "Allow me".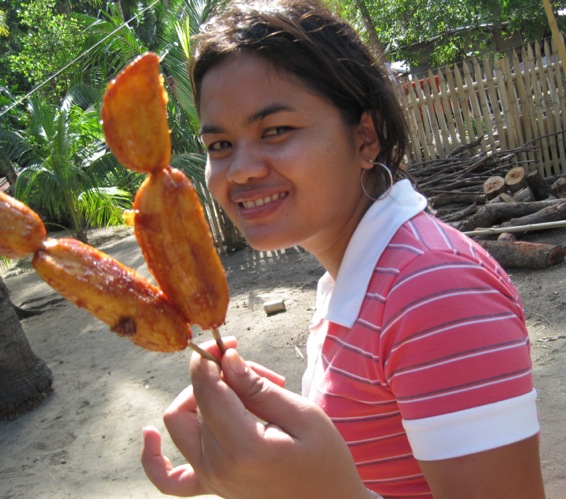 (Leklek in Guba)
5 April - CAUAYAN
Cauayan is a town north of Guba. Hazel and Glitter's family host me for two nights. It is torrid in Cauayan. I am so grateful that this neat guest house is cool inside. 
Hazel, her brother Reumil and I, along with their numerous cousins go swimming in the sea. We pass by a salt field on the way. Hazel tells me that 1 sack of salt would cost 80 pesos. We are not sure how much profit that would be. Later on that day, we see some vending projects and a person making nipa roof thatch. Although I feel really sick for the first time here in my whole visit, I still have had a great time in Cauayan. Thank you.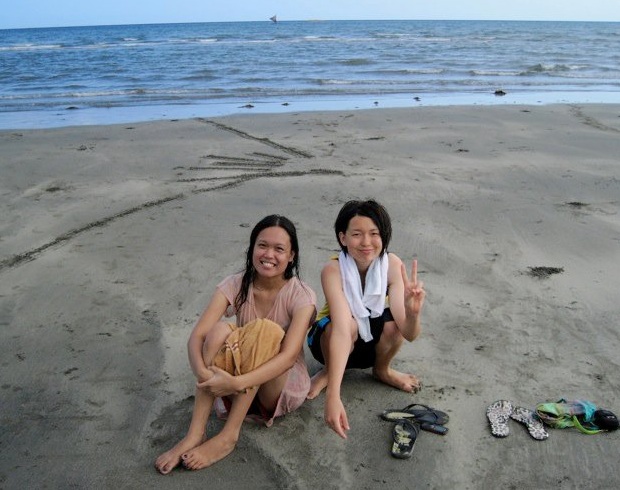 (with Hazel in Cauayan)
6 April-BACOLOD
Bacolod city is located north of Cauayan. In Bacolod, Hazel and Warlita, a field worker, take me to see projects which are scattered throughout a depressed area. 
Here is an interesting anecdote. In one depressed area in Bacolod, I see a lady in a clean, yellow uniform coming out of a house which seems on the verge of collapsing. Then, I see her again at a fancy shopping mall, situated next to that depressed area and she is working as a sales lady.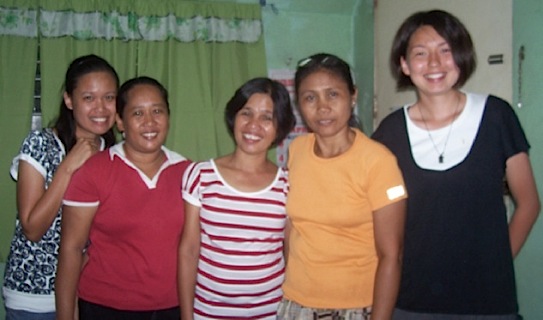 (with the Bacolod staff)
8 April-BACK TO CEBU 
The trip is coming to an end. I head back back to Cebu on the morning flight. It is so nice of Sherry, another PSHF Bacolod staff member, Reumil and Hazel to send me off to Bacolod airport. Time has really zoomed by. Genevive is waiting for me at Cebu airport. Seeing a kite flying, I suggest we do the same thing. So later, at Apple's house, I, Genevive and her cousins make kites from a plastic bag. The children remember me and call me "ate Yuko"
We finish making the kites and head up the hill to fly them. Not being really lucky with the wind, we played tag etc instead. We had great fun, but I was very disappointed that the hill was covered with garbage especially plastic bags.
Genevive's family treat me to a really tasty dinner. I love Philippine home cooking! After that, they take me to an Iglesia ni Christo mass which was really interesting as the priest was so emotional that he was crying at the end. This one night in Cebu was the end of my journey.
I'm not sure how to thank the people who have helped me along my trip. It is because of them that I could feel so comfortable and secure during my stay. I really felt safe. Here, I'd like to try to thank everyone who touched the circle of my journey.
Thank you.
I hope to come back again in few years. That will be exciting.:D