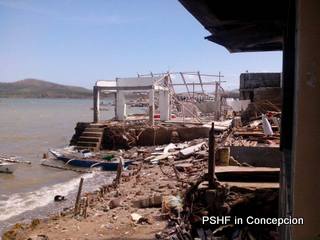 A PSHF team visits Concepcion, a town in the province of Iloilo, badly damaged by typhoon Yolanda. 
Lanie de Leon describes a weekend of delivering relief supplies to an affected community.
We arrived in Concepcion in the early evening of November 16. Ana's friend, Arlyn had asked her brother, Jing-Jing to come and be our guide on his motorcycle. He then asked three other motorcyclists to bring us to their place. One carried just the bags and supplies, Ms. Rhiza and Ms. Bernie rode on the second, I rode on the third and Ana went with Jing-Jing. Half way to Arlyn's place, Rhiza and Bernie's motorcycle unfortunately got a flat tire so Ms. Bernie rode with Ana and Ms. Rhiza rode with me.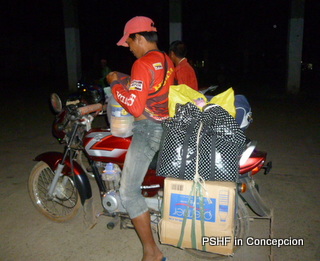 The motorcycle that carried our bags and the supplies.
We were dropped off at the foot of the hill where Arlyn lived and we hiked our way up. It was dark, because there was no electricity so we made use of a couple of the flash lights we had brought with us to give away. It was a moonlit night too so we had no trouble negotiating our way over the fallen trees to reach Arlyn's house on top of the hill. Arlyn was waiting for us at the door and greeted us warmly.
While some of us prepared supper, others talked to Rado, Arlyn's Romanian partner. Our hosts shared their experiences during the typhoon - like they were inside the bathroom standing until the typhoon calmed down. Their house lost almost half its tin roof sheets and some of these have just been returned by Arlyn's father. The moonlight was streaming in where there was no roof.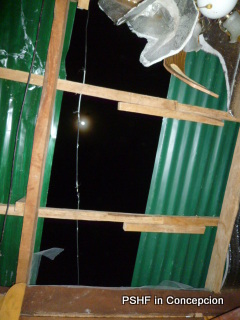 The moon through a space in the family's roof.
After dinner we decided to start packing the relief goods in the room which had been the master bedroom; it had a ceiling but the roof had been blown away. Arlyn and her 4 year old daughter Lulia, helped us. Arlyn was very efficient in organizing and instead of just 12 relief packs, we had enough for 15; we just lacked a few items which could be bought in the town market.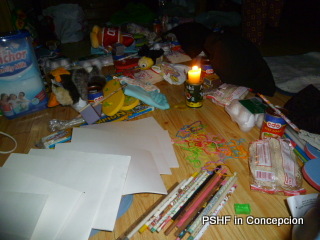 Our relief goods included candles and matches,
a pair of rubber sandals, dried fish with some rice, eggs,
miswa or locally made noodles, a piece of clothing,
pencils and even origami paper!
We had only just finished packing a few plastic bags when it started raining and it came with strong winds too. Water started dripping into the room and almost everything was getting wet. We all grabbed the goods and our stuff and transferred to the kitchen which was dry. The mattress that had been prepared for us to sleep on was also moved to the kitchen. Ana slept with Arlyn's family in the other room while Ms. Bern, Ms. Rhiza and I slept in the kitchen. We were all awakened at around 4am when the winds picked up again causing the tin roofing to make a loud creaking noise.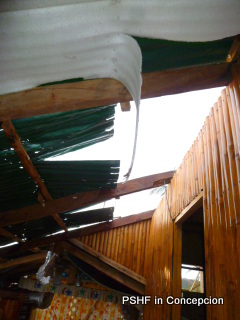 The damaged roofing that made a creaking noise.
It was like we were having a first hand experience of what it had been like to be there in the typhoon. It was scary but we survived and it made our stay more meaningful.
A ten second video of how the wind sounded that morning
and the scene outside their kitchen window.
We were up early to finalise the packs and check what was lacking. Ana and I then left with Toto (Arlene's younger brother) to buy some items in the market while Ms. Bern and Ms. Rhiza went down to the shore with Arlyn's mother, Helen, to view the damage on the beach front. 
In the early afternoon, Helen and Ann-Ann, Arlyn's younger sister led us to the 15 poor households who live behind their hill to distribute our relief supplies.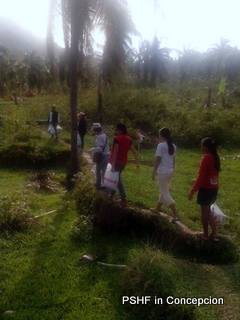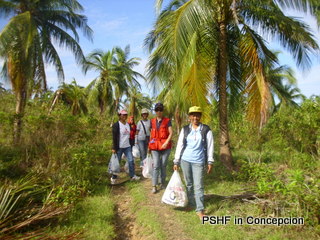 The team carrying the relief supplies with Arlyn's mother, Helen as the lead guide.
The people are most grateful for our help and encouragement. Most of their homes were badly damaged or even flattened to the ground. They have built temporary dwellings with wood from fallen trees and any tin roof sheeting they can find.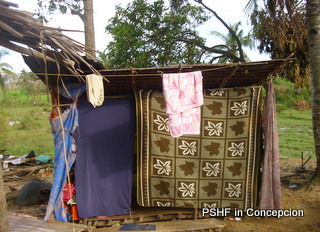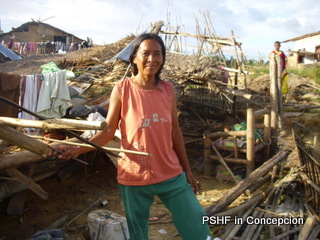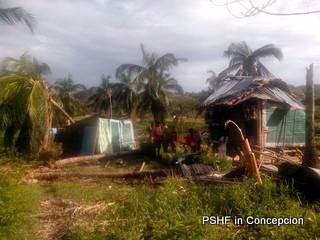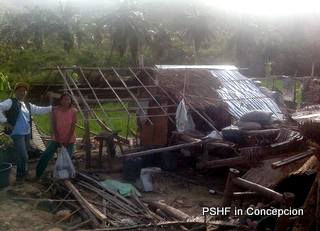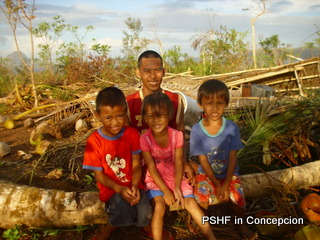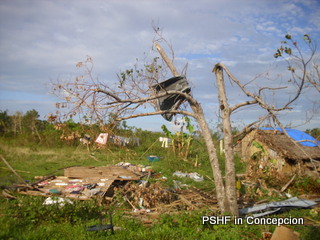 We bid farewell to our hosts at 5pm, promising we would return to help more. Rado and Arlyn's only source of income is their internet shop which was flooded in the typhoon, so perhaps we could help them with a loan to replace lost equipment. There are others too in the community who have lost their livelihoods, so I hope we might be able to help them too.

Lanie M. De Leon
18 November 2013