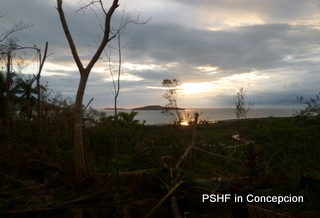 We - Lanie De Leon (PSHF Bacolod coordinator), Ana Marie Alba (our previous coordinator for southern Negros Occidental), Rhiza Ciudad (PSHF trustee) had the chance to visit Concepcion in northern Panay eight days after typhoon Yolanda devastated the town. We had come to bring relief supplies to the home community of Ana's friend Arlyn in whose home we stayed. She lives with her partner Rado and their two children.
Rado related to us his experience during the typhoon:
"It was announced on the radio that Yolanda would strike around 12 noon on Friday, 8th November. We were ready, and waited for it to come; we were thinking that this would be like many typhoons in the past.
As early as 10 o'clock in the morning, a powerful wind began battering our small community, like we'd never seen before on TV. Our small but solid house started to shake and everybody began to get scared. At 12 noon, I was in the bedroom, sweeping the floor as water was pouring in through the window frame; it gushed in like it was coming out of a faucet. Then I noticed that the window frame was moving and I tried to push it back, at the same time shouting for help because I couldn't handle it alone. Outside I saw coconuts and other trees being cut in half by the wind, the sound of which I never heard before. Then Arlyn shouted "Get out of there Rado, the window might fall on you!" So I let go, and while walking out of the bedroom, it was then that I noticed our air con was lying in the middle of our bedroom, pushed out of its place by the wind.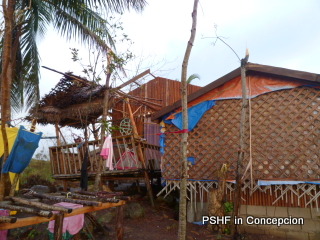 Photo shows the family's ruined porch, behind
which is their roofless master bedroom.
Then I suddenly felt pain in my toes, with blood oozing from it. It must be the shards from the broken glass window, I realised. My more immediate concern however was how to get out of the bedroom because the door refused to budge! It finally opened a few minutes later. "Come here Rado!", my wife shouted from somewhere. I looked for her and saw her and several others crouching under a table. Then we decided to go inside the bathroom. "It's safer there.", Arlyn's father said.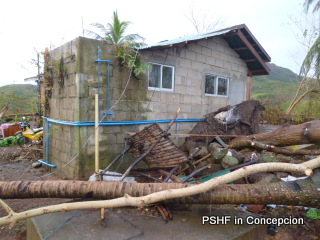 The all-concrete structure on the left hand side of the
house is the sturdy bathroom where the family and
their neighbours stayed during the typhoon.
We huddled inside the bathroom for an hour or so. I was given the privilege of sitting down because of my foot injury; all the others were unhurt and had to stand. Finally around 2 o'clock, it started to become quiet outside, with only the rain falling. The typhoon had lasted for about 4 hours, beginning at 10 o'clock and reaching its strongest at 12 noon. When Arlyn opened the door, we could not believe what we both saw: the once beautiful little 'forest' which surrounded our house had gone, and everything now looked desolate. The house of Arlyn's aunt - Marlyn, was the only home which remained standing; her parents' and her brother's house had both crumbled to the ground. The devastation that I have seen in films is nothing compared to what I have experienced here."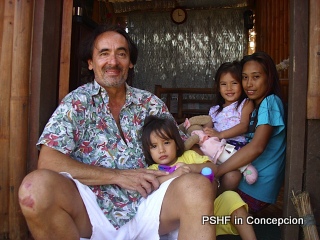 Rado and Arlyn with their children, Greg and Lulia.
Bernadette Gampay-Togado
17 November 2013