The Christmas season is a special time of year, and for our family having the opportunity to be together again made it especially so. Ruth and I are currently American ex-pats living and working in Tokyo, Japan, with our high school daughter Liz. Our three sons (in their 20's) are living in the US. As we started our vacation planning we were looking for some place where we could enjoy time together as a family, some place warm and accessible to swimming, and also someplace where God could use us.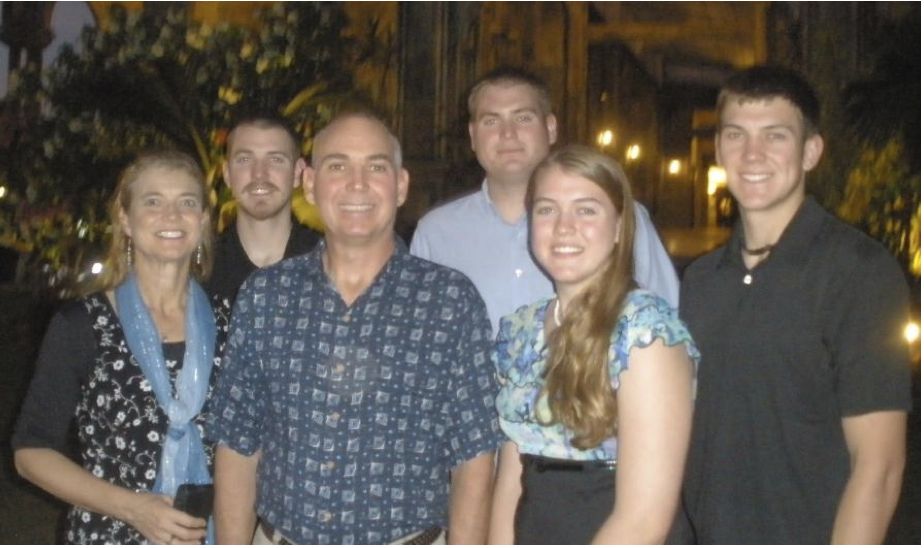 (Our family from L-R: Ruth, Kieth, Dan (me), David, Liz and John)
The Philippines quickly became a top choice. In addition to checking out what resorts were available, we contacted Richard Foster whom we had become acquainted with at Tokyo Union Church. We realized quickly that our vision for a combination of "vacation + mission-type experience" was not so different than what he had suggested in one of his PSHF flyers. Although this all sounds smooth and easy, to be honest I had many questions about how it would all work out. Frankly I was fixated on what kind of vacation experience I could give our children, and whether it would be good enough. Ruth helped me to stop focusing on what I could give, but instead start trusting that God had something to give to us. Hopefully the next few paragraphs will help to provide a glimpse into that gift.
After meeting our boys in Manila, we flew together to Bacolod, in Negros Occidental, to join up with Richard and Glitter. We were wide-eyed as we travelled from the airport to the hotel, and spending the afternoon swimming helped in dealing with the change in time zones. The next day we got to see the PSHF office, meet more of the staff, and then go into the city to see some of the people PSHF is partnering with. We saw the reality of poverty, and realized anew that poverty has individual faces and names. We met with PSHF clients in the hospital, marketplace, and in their homes. I feel that we were able to bring some encouragement to the people we met with, and we were encouraged as well.
We were also blessed to be part of a reunion, as Richard was able to re-connect with members of the first family he had helped. It was a privilege to see the love that this family had for Richard, and how his love for them has impacted many generations. Being part of this reunion helped to reinforce that fact that God isn't asking me to eliminate poverty, but instead is calling me to take a small step in faith to change one life, and trust that he will multiply the blessing.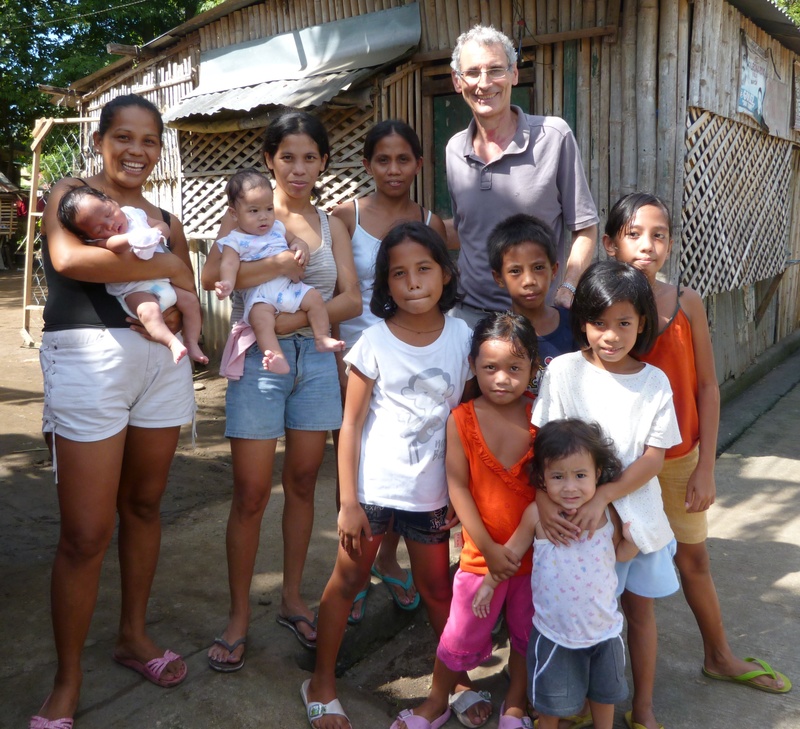 (Richard with the Ambong family, the first PSHF project.)
We concluded our visit to Bacolod with a dinner at "The Ruins". This was a not only a culinary delight, but the location had an incredible ambiance. During our leisurely dinner, we had time to reflect on what we had seen and experienced in Bacolod. There is an awkwardness with being an average "1st world wealthy" and encountering "majority world need". In my own spiritual journey, God continues to call me to embrace this awkwardness, rather than turn away, so that his blessing can flow to and through me.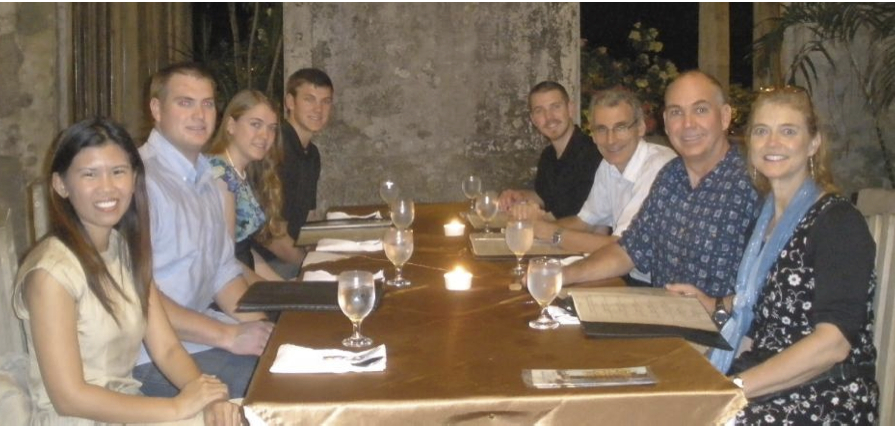 (With Richard and Glitter in The Ruins.)
One of God's gifts to me throughout this vacation was the blessing of new relationships. This is especially true with respect to getting to know Richard's staff. Glitter and Bernie made our visit and Bacolod interesting and smooth. We got to know Glitter during our time spent with her and her family in Cauayan. We enjoyed worshipping with Glitter and her family at her father's church. It was a very special Christmas service, and Hazel's singing (Glitter's sister) was so meaningful that it brought tears to our eyes.
For Christmas we were able to stay in a house on the beach in Cauayan. This gave us the opportunity to have a white Christmas made of sand instead of snow. The boys were also able to play basketball with Glitter's brother and some of the local guys. There was a lot of nervousness among all the players, but in the end everyone had a great time. For us the experience was made even better by enjoying fresh coconut as a post-game treat, and by fresh I mean watching a 70-year old man climb and cut the coconuts from the tree.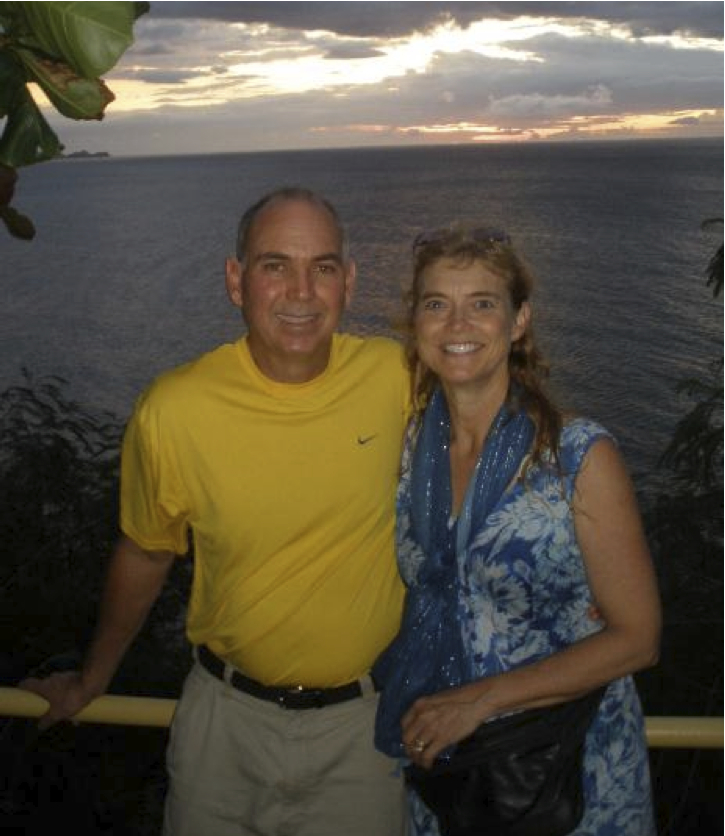 (Ruth an I in our rented house by the beach in Lina-on, Cauayan)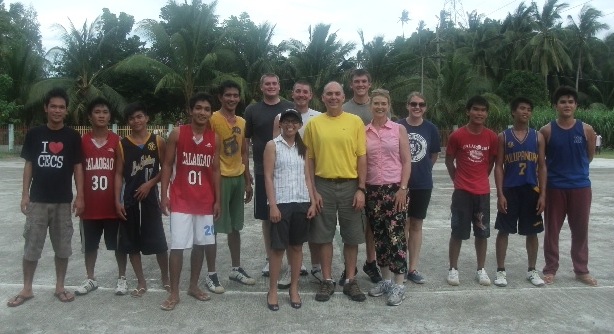 (After the basketball game with the locals in Caliling, Cauayan.)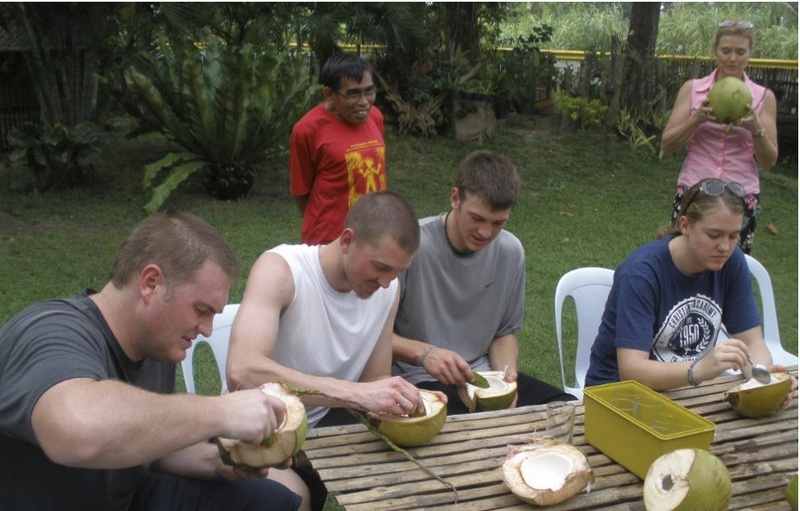 (The post-game coconut treat in Glitter's residence.)
After an emotion-filled goodbye to Glitter we travelled to Santa Catalina and met up with Leklek. Leklek's family live in a small fishing village right on the beach, and Leklek's father gave us a ride in his fishing boat. Our kids were able to spend some time with the children of the village, and taught them tic-tac-toe in the sand and "Marco Polo" in the water. I heard the distant echo of "Marco...Polo" as we left the village the next day.
Ruth and I were also able to do a one-night homestay at Leklek's home. What a loving and gracious family! We enjoyed the time we could spend there. We were also treated to singing by some of the children. What a testimony to the simple, pure love of Christ that exists there. Before heading to our next location, we had the opportunity to see a couple of the micro-loan clients PSHF is working with in the countryside near Santa Catalina. This included the 6 of us riding on the back of motorcycles through some breathtaking areas to see sugar cane farming.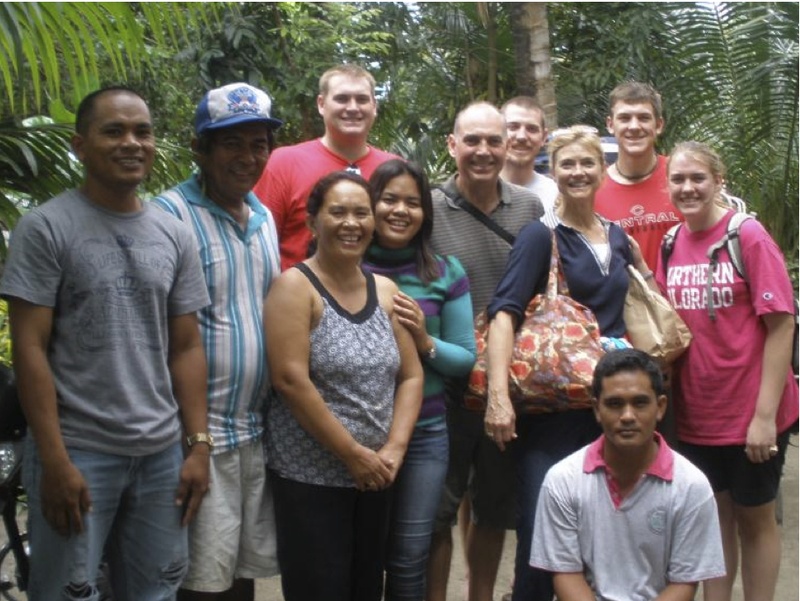 (With Leklek and her family in Guba, Negros Oriental.)
Tagbilaran, on the island of Bohol, was our last PSHF stop. There we got to meet Ireen, Phady, Anabelle, and Analyn who work in the PSHF Bohol office. During our trip into the field we saw a seaweed cultivation project in action. The staff also distributed a couple new loans for small business endeavors while we were there. In the evenings we ate with the PSHF staff at an organic restaurant in the mall. It shouldn't be surprising that these times of sitting, eating and talking together (our family and the staff of PSHF) were especially enjoyable.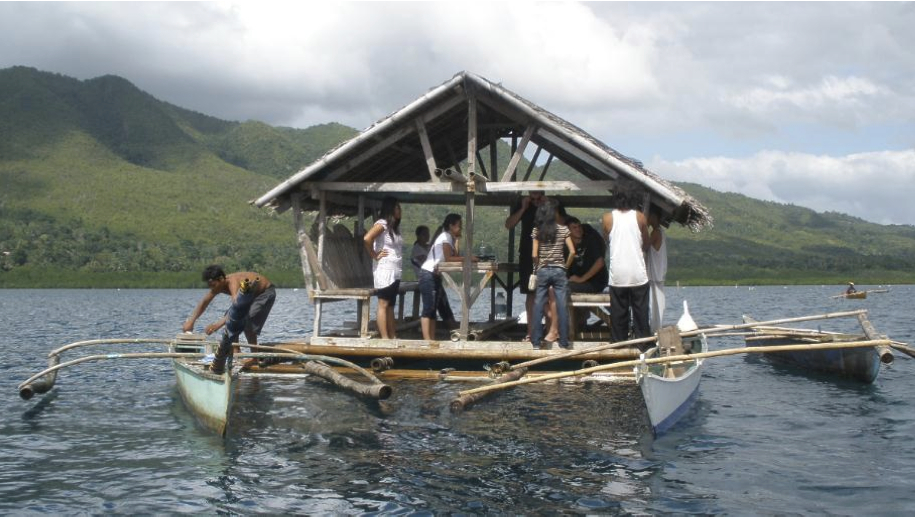 (Visiting the PSHF seaweed project in Maribojoc, Bohol with the PSHF Team.)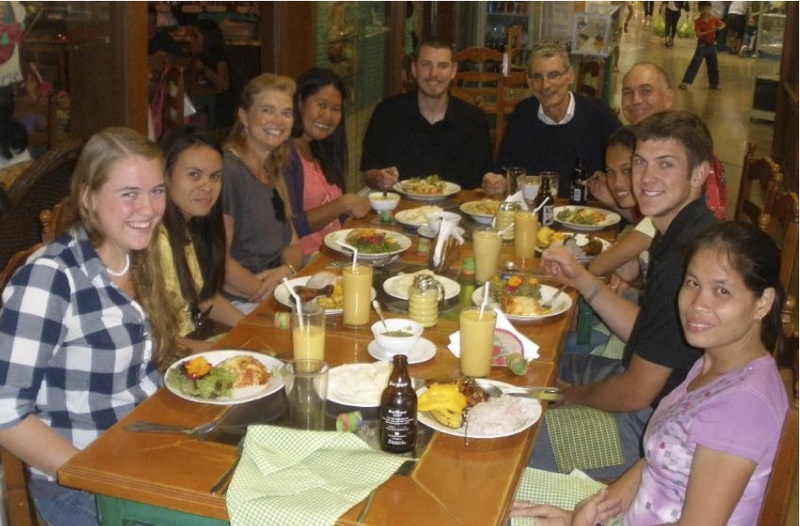 (With Richard and PSHF Bohol - Ireen, Phady, Analyn, Anabelle - at The Buzz.)
Our trip concluded with a few days in a nipa hut type bungalow near the beach. This time together as a family was valuable because it gave us time to reflect on the many experiences in the previous days. We had been on planes, boats, jeepneys, taxis, motorcycles, and motorcycle sidecars. We had seen poverty, been offered friendship unconditionally, and been given an opportunity to encourage others. The awkwardness of being different, although it never disappeared, was replaced by a feeling of love and acceptance. God's gift to me this Christmas was one of relationship, and encouragement. I am thankful that our family was able to share this rich experience together.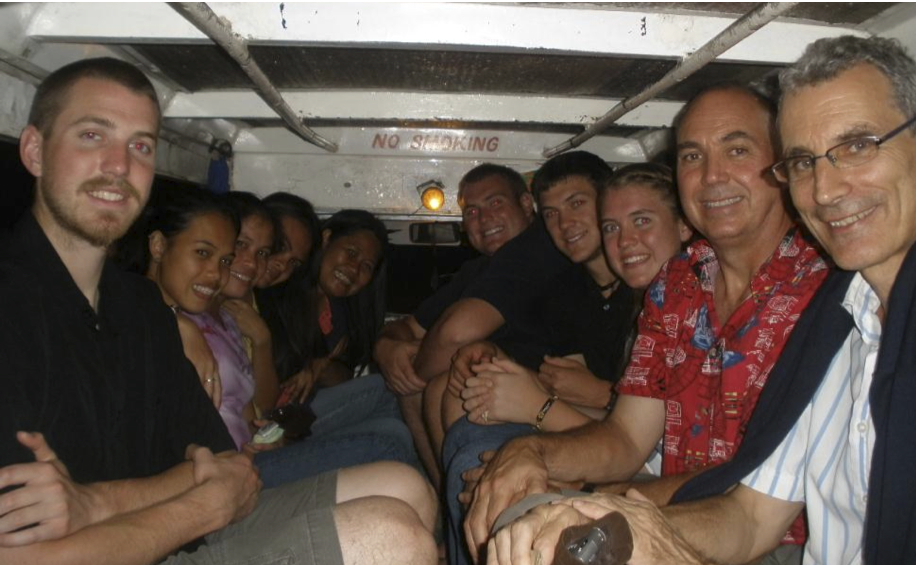 (In the jeepney to visit projects in Maribojoc, Bohol.)

Dan Brandsma
January 2012